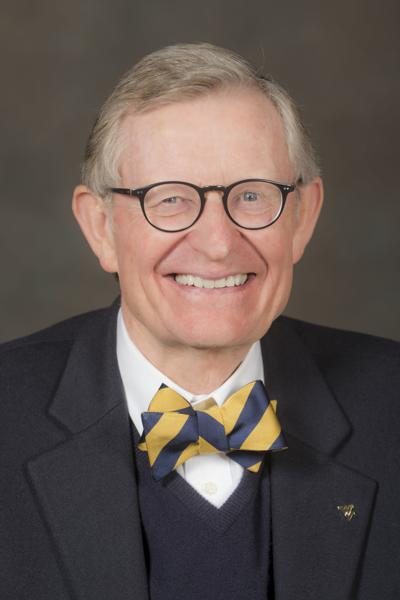 West Virginia native son and former Cisco CEO John Chambers believes that prosperity can only bloom in our state if it takes root in our classrooms.
"You've got to teach technology, artificial intelligence and entrepreneurship," Mr. Chambers told an interviewer about his ideas for educational reform. "Those are the three cornerstones of the future."
At West Virginia University, we agree with our distinguished alumnus that fixing a broken educational system is the first step in moving our state forward.
In fact, no state has greater potential to become a startup state. We have a firm foundation in the work our university has done thus far through our West Virginia Forward partnership with Marshall University and the state Department of Commerce.
A key West Virginia Forward finding is that we must do a better job of educating and training our current workforce and building a future talent pipeline.
As our state has exported coal, oil and natural gas, we have also been exporting our most precious resource: people.
Transforming education will reverse this exodus.
As I often point out, our state does not have a job problem. It has a skills problem that leaves many high-paying jobs unfilled.
We have the nation's lowest workforce participation rate, which hovers around 50 percent, when the national average is about 63 percent.
Workforce participation increases with educational attainment, and our college-attainment rate is the nation's lowest, with fewer than 20 percent of citizens age 25 and older holding a post-secondary degree.
Notably, we have fewer science, technology, engineering and math graduates than any neighboring state. Meanwhile, the demand for STEM professionals keeps growing.
For example, Leidos is expanding its operation in Morgantown and bringing more than 200 high-paying jobs to the area. A concentration of STEM professionals in the University City makes this growth possible, and we would like to see similar development extending beyond North Central West Virginia.
While not everyone needs a four-year college degree, everyone needs some post-secondary training to succeed in today's economy.
That is why we must build our education system to accommodate the rapidly changing workplace skill-sets.
Unfortunately, you will encounter people who think the educational status quo in this state is good or good enough. In my opinion, the status quo simply has no status.
That is why higher education has been engaging in planning to fix our broken system.
The Blue Ribbon Commission on Four-Year Higher Education is finalizing recommendations for a governance model that positions West Virginia to compete for the best employers.
The Commission may well recommend eliminating the West Virginia Higher Education Policy Commission and replacing it with an Office of Post-Secondary Education.
Such an office would give much more decision-making authority to boards of governors at smaller state institutions.
Currently, our state spends too much effort and money duplicating oversight that fails to move the ball forward for our students and our state. Local governance is the most responsive and effective governance, and I believe each institution is best governed by its own board.
At West Virginia University, we have been pursuing what I call our "freedom agenda." As resources available from the state decline, we need greater flexibility in areas such as purchasing and personnel and the ability to respond quickly to revenue-generating opportunities.
Greater freedom helps institutions do big things with the limited resources they have.
At a time when all our state colleges and universities are underfunded, higher education cannot forge West Virginia's future by clinging to solutions that worked in the past.
No one understands that better than Mr. Chambers, who has spent his career anticipating and meeting society's changing technological needs.
By donating his time and resources to West Virginia University, he is helping us meet our state's need for a startup culture.
His career success followed a childhood struggle with dyslexia, of which he has said: "It really taught me early on in life that there's almost nothing you can't do if you're willing to put the time."
Building a start-up culture, which requires similar tenacity. It requires dreaming big and taking risks.
Mr. Chambers knows that diversifying our economy key to long-lasting prosperity. Truly, in today's economy, startup firms are powering growth and job creation. That is why he advancing digitization, an innovation economy and an entrepreneurial mindset through a business accelerator and other programs at our John Chambers College of Business and Economics.
With Mr. Chambers' help, our university is sowing the seeds for innovation today, so that West Virginia can reap prosperity tomorrow.
["source=wvnews"]